CaloriSMART - Small Modular Advanced Research scale Test station
CaloriSMART is a unique system designed specifically for rapid evaluation of materials in regenerators without a large investment in time or manufacturing. The modular design allows for testing 10 to 50 gram regenerators with magnetic, elastic, electric, or combined fields, at operating frequencies up to 5 Hz, and variable heat rejection temperatures.
Test Modules
Magnetocaloric module
Variable magnetic fields up to 1.4 T provided by a permanent magnet array
Supports testing of packed particle beds, plates, wires, and other regenerator forms
Elastocaloric module
Tension or compression stresses from 0.05 to 1 GPa
Supports testing of plates, wires, tubes, cylinders, and other specialized forms
Electrocaloric module
Electric fields from 10 to 100 MV/m
Supports testing of ceramic and polymer thin-film materials in the form of multilayers
Combined field module
Dual-field capabilities including magneto-elastic and electro-elastic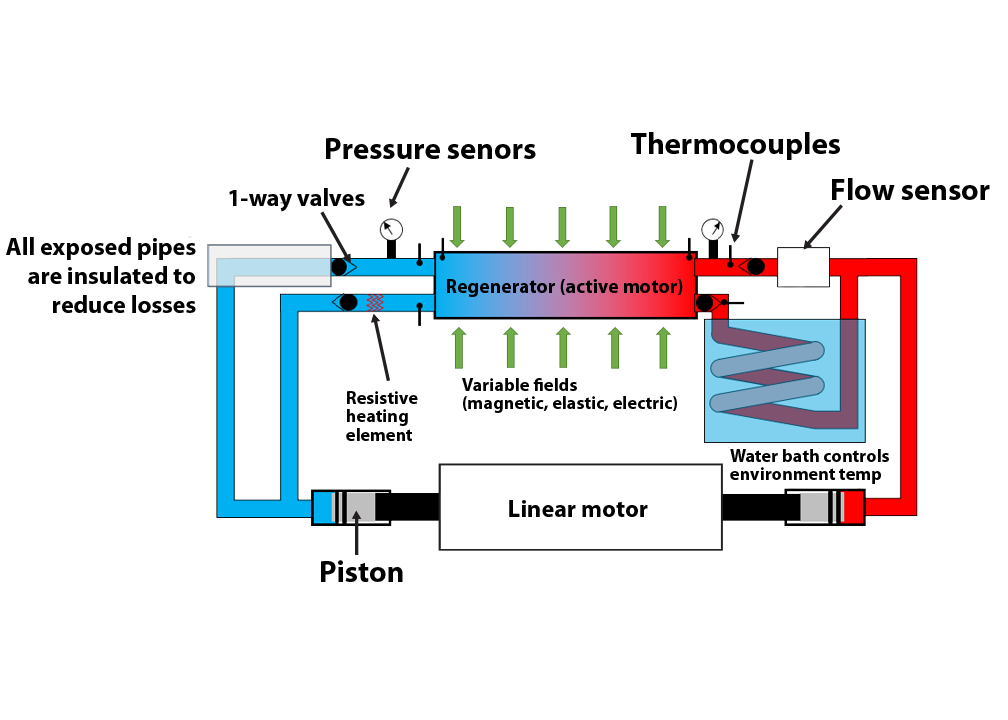 Additional Testing and Evaluation
With slight modifications, the caloric modules will be used to evaluate aging effects in accelerated testing.
The team utilizes detailed modeling, rapid prototyping, and flexible test capabilities to rapidly evaluate new concepts for regenerators, active material configurations, and other related ideas.